Quiet Rooms & Padded Rooms
in Baldwinsville, NY and Greater Northeast Area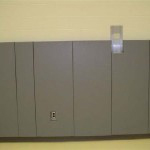 Action Wall Pads offers the sale and installation of quiet rooms, de-escalation rooms, and padded safe rooms for many different types of organizations, including schools and medical facilities. These rooms, also known as, cool-down rooms, seclusion rooms, and calming rooms, are used to help people relax by removing any distractions in a safe and silent environment. These rooms encourage thinking and contemplation in a fully padded room that helps alleviate the possibility of self-harm. To learn more about installing padded rooms in Buffalo and throughout the greater Northeast region, please don't hesitate to contact Action Wall Pads.

We will work with you to design a custom space that meets your exact needs for any facility, including:
Hospitals
Health Care Centers
Daycare Centers
Schools

Penitentiaries & Jails
Remand Facilities
Private Education Centers
Pre-schools
School Padded Rooms
Children of all ages are subject to anger, anxiety, grief and other emotions that may result in the need for them to visit a padded quiet room. We manufacture high quality padding for flooring and walls to line these custom rooms, helping to reduce the chances of injury to children and older students experiencing frantic feelings. Our padded quiet rooms promote safety, relaxation and offer a space that will assist in calming the student. Contact Action Wall Pads to learn more about our abilities to create custom padded rooms for schools in Upstate New York.
Medical Facility Padded Rooms
Medical facilities, including hospitals, psychology clinics, mental health facilities, family practice clinics and others, are likely to see patients who will need to be escorted to a padded quiet room. These rooms are important to the safety of patients and medical facility staff who are treating clients faced with all sorts of issues. Action Wall Pads can manufacture and install wall and floor padding in custom dimensions to fit any space.

The ultimate goal of our padded rooms is to create a safe environment, and we do this by manufacturing high quality wall and floor pads to fit specific areas. To learn more about floor and wall padding for padded rooms in Buffalo and throughout Upstate New York and Western Pennsylvania give Actional Wall Pads a call at (914) 648-4838. We will be happy to discuss your needs for custom padding.
Stage Padding
Many school gymnasiums and other facilities double as theaters or auditoriums in which a raised stage is present. The front stage wall poses a threat to people who use the same area for athletics and other fast paced events. The stage is not only a blunt wall, but it contains an edge that can be even more damaging. We manufacture stage padding that will reduce the chances of injury if someone has a sudden impact with the front of the stage. We can create padding to custom dimensions that suits your facility perfectly.
Time-Out Room Padding
Schools or other facilities equipped with time out rooms need to be sure that the person inside the room is properly protected. Action Wall Pads can manufacture custom dimension padding in order to install time out room padding in Buffalo or the surrounding areas in Upstate New York and Western Pennsylvania.

Action Wall Pads is a full service provider of wall and floor padding for time out rooms, gyms, and other facilities. If you need day care padding or stage padding in Buffalo don't hesitate to give our team a call at (914) 648-4838 to request more info or to place an order for your custom padding.