What Materials are used for Athletic Wall Padding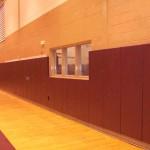 Athletic wall padding used in gyms and on sports courts around the world is an important item for keeping players safe. Wall padding is essential to injury prevention during basketball, volleyball, badminton, boxing and other sports. These custom fitted pads are perfect for school gyms, public gyms, private studios, and other spaces in which intense competition is common. But what are these pads made of? Read on to learn more.
Wall Pad Backing
The bak side of the wall pad, which attaches to the wall, is generally made from OSB (Oriented Strand Board). However, it can also be made of plywood. Each of these materials provide excellent mounting capabilities and ensure the pads hold their shape.
Foam
For standard padding 2 inch foam is used in combination with 90 indentation load deflection (ILD) density virgin polyurethane. Higher density polyethylene can also be used to for additional padding support.
Fire Resistant Vinyl
To cover the foam a nylon reinforced 14 oz fabric is used. It features a leather-like emboss pattern and is mold and mildew resistant. It is also fire resistant, providing additional safety. This outside vinyl is available in a number of colors and can feature custom graphics, allowing you to represent your team spirit. If you are looking for high quality sports wall padding in Buffalo, Utica, Albany or elsewhere in New York and western Pennsylvania be sure to reach out to Action Wall Pads. We strive to provide the highest quality wall padding products and installation experience. To learn more or to place an order for gym wall padding in New York give our friendly team a call at (914) 648-4838 today.
Action Wall Pads Blog
Written and Published By MORBiZ