Gym Wall Padding in Baldwinsville, NY and Greater Northeast Area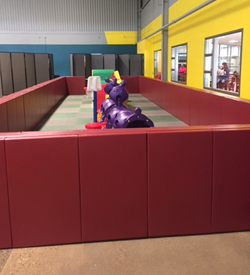 Gym wall padding is an important investment for any facility that hosts sporting events, workouts, or other activities in which people may come into contact with a wall during fast paced action. Action Wall Pads manufactures and sells gym wall padding in Upstate New York and Eastern Pennsylvania. You can find our products throughout the region in all types of facilities, including private and public schools, gyms and athletic arenas. To learn more about our products or to request a quote for for wall pads in Buffalo or the greater vicinity, don't hesitate to give our friendly team a call!
Sports Wall Padding
Basketball Court Padding
Badminton Padding
Volleyball Padding
Boxing Gym Padding
Impact Protection
Wall Padding Refurbishment

Column & Corner Pieces
School Gym Padding
Private Gym Padding
Studio Wall Padding
Public Gym Padding
Custom Wall Padding
Custom Colors & Graphics
Wall Padding Prices
All pricing is FOB this means that the plant and the buyer pays shipping.
Standard 2′x6′x 2 1/2 Pad with OSB backing, 2″ polyurethane foam and Class A rated vinyl is $56.00
For all other sizes and options as well as installation pricing please call us at (914) 648-4838 or fill in our quote request form.
Basketball Court Padding
No matter the age of the players, basketball is a faced paced sport with lots of action, and sometimes that action takes place out of bounds. In facilities in where players may come into contact with nearby walls it is critical that those walls are padded. We have the solution you need to protect all players.
Volleyball Padding
Volleyball is a fast paced sport that many schools and other facilities participate in. To keep players safe from impact with nearby walls, padding is absolutely necessary. Action Wall Pads is the premier provider of wall padding for volleyball courts throughout Upstate New York and the surrounding regions.
Gym Wall Padding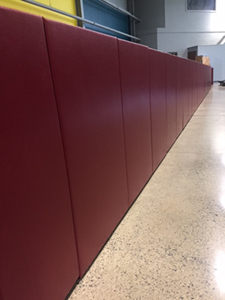 Any facility that hosts fast paced action ought to install wall padding. It is an important ingredient for a safe practice and play facility, regardless of the sport or activity being conducted. Gym pads are versatile, meaning they protect people participating in all types of games, activities, and events.
Custom Wall Padding
Action Wall Pads offers standard sized pads, but we can also manufacture custom pads in many sizes and shapes to fit your needs. We also offer a wide range of colors and have the capability to imprint custom graphics onto the pads.
Materials
WALL PAD BACKING: We use 7/16" OSB (oriented strand board). We also offer the choice of plywood in place of OSB.
FOAM: The standard thickness in 2" with 90 ILD (indentation load deflection) density virgin polyurethane. We offer flame retardant polyurethane foam, as well as higher density polyethylene foam.
FIRE RESISTANT VINYL: Nylon reinforced 14oz. fabric with leather-like emboss pattern. It is mold and mildew resistant and conforms to the requirements of ASTM E84-O3B which is the highest rated (Class A) available in accordance with the NFPA 101 life safety code. We also offer an 18oz fire resistant vinyl upon request.
For more than 25 years Action Wall Pads has been a leader in gym wall padding in Buffalo, Utica, Albany and throughout Upstate New York and Western Pennsylvania. Give us a call at (914) 648-4838 to request a quote or to place an order! We'd be happy to answer any questions you may have.