Top Sports that Require Wall Pads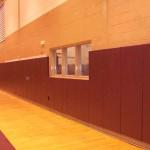 At all levels of play, from children to professionals, it is important to provide a safe sporting facility. One of the best ways to enhance the safety of any sport is to provide proper padding that can absorb the impacts of fast moving athletes. The following sports are a few of the ones that are most likely going to benefit from floor and wall padding.
Basketball Padding
Basketball is a fast paced game that has players racing up and down the court. Many school basketball courts are walled off just past the hoop, so it is important to have padding on the hoop base and the wall behind it.
Wrestling Padding
To ensure that wrestlers are not subject to injury during a match, proper floor padding should be used.
Badminton Padding
Another quick paced game that has players running all over the court is badminton. To ensure any player who runs out of bounds during a match isn't injured with a wall impact be sure to use quality wall padding.
Gymnastics Padding
The safety of gymnasts is paramount to their ability to train and perform. Wall and floor padding should be used in any gymnastics facility.
Karate Padding
During karate matches it is likely that the contestants will end up on the floor. To prevent injury karata padding should be used.
Indoor Soccer Padding
Indoor soccer is a fast paced sport that requires padding in certain areas of the facility to prevent injury to the players.

Protection for the players is key to a safe and fun event. If you would like to request a quote for sports wall padding in Buffalo, NY or the surrounding region, don't hesitate to contact Action Wall Pads. We manufacture and install gym wall padding for all types of facilities that host many different activities. Give us a call at (914) 648-4838 to learn more about gym wall padding in Upstate New York or Western Pennsylvania.
Action Wall Pads Blog
Written and Published By MORBiZ