What Does Action Wall Pads Sell?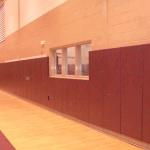 Action Wall Pads is celebrating 25 years in business! Our team is proud of the American made products we manufacture and install in the Northeast US, and ship around the nation. Our padding systems are designed to be implemented in many scenarios, for athletics, medical purposes and injury protection. Over the past 25 years we've perfected the production of the following padded products.
School & Organizational Padding
For schools and private organizations we manufacture exercise padding for walls and floors that helps students and others stay safe as they practice routines, performances and competition maneuvers.
Gym Padding
Our products are regularly found throughout gyms. Public and private gyms use wall and floor padding to give their clients a safe arena in which to conduct their workouts!
Wrestling Mats
Special matting is required for wrestling matches. This is true for both private wrestling teams and those organized by public schools. We can create standard size and custom wrestling mats for your team so you can properly host matches.
Quiet Room Padding
Quiet padded rooms are used in schools, medical facilities, professional organizations. They are generally necessary when people need a quiet and safe place to calm down following an instance emotional distress.

Action Wall Pads manufactures custom sized wall and floor padding that can include unique graphics. If you believe that your organization would benefit from wall padding in New York or around the country don't hesitate to contact us at (914) 648-4838. We look forward to working with you!
Action Wall Pads Blog
Written and Published By MORBiZ