Why Choose Action Wall Pads for Wall Padding in New York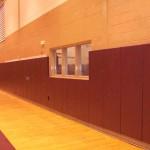 If you are planning on installing wall padding in a gym or other sports facility in the Northeast USA, including New York, Pennsylvania and beyond, you will want to reach out to Action Wall Pads. This licensed and insured company is a top choice for schools, gyms, training facilities and other businesses that require wall and floor padding for safety purposes. Here's what makes them a great choice for wall padding.
Years of Experience
Action Wall Pads began installing wall padding in 1993 and in 2001 they began manufacturing it themselves. With 25 years of experience you can rest assured that they are well versed in the proper installation of wall padding for all types of spaces.
In House Manufacturing
As mentioned, Action Wall Pads began in house manufacturing in 2001. By doing this they were able to offer manufacturer direct prices and ensure that the products they installed were of the utmost quality. With Action Wall Pads you will get the highest quality padding and the best possible prices.
Nationwide Shipping
Aside from offering professional installation in the Northeast, Action Wall Pads also ships their products nationwide. So whether your facility is in rainy Washington or sunny Florida, you too can get the best.
Custom Graphics
If you want to show some team or club pride you can count on AWP to print high quality graphics on your pads.
Fire Retardant
Not only are the wall pads they produce great for protecting against impact, they are also rated Class A Fire Retardant, helping keep everyone safe if a fire breaks out.

To learn more about what makes Action Wall Pads a top choice for wall padding sales in New York and beyond give their friendly team a call at (914) 648-4838. We strive to provide great products and service everyday! Thank you for considering AWP for your needs regarding sports padding installation in NY, PA, and the surrounding states.
Action Wall Pads Blog
Written and Published By MORBiZ