Customer Reviews of Action Wall Pads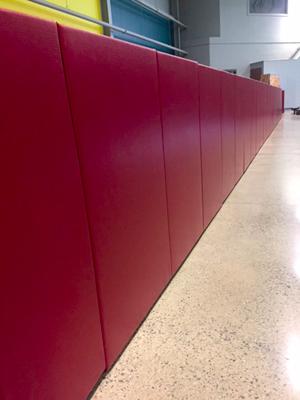 When it comes to specialty products it is important to work with a company that is truly passionate about what they do. At Action Wall Pads we take great pride in the designing, production and installation of wall pads for gyms, schools and other organizations. We know that people rely on our products to provide a safe environment for athletics and working out, as well as for quiet room padding and stage padding. From the moment a customer contacts us it's our mission to ensure they have a great experience. Whether we're shipping (nationwide) or installing wall pads throughout the Northeast USA, we strive for excellence. Here's what just a few of our customers have said about us and our products. We hope that when you find yourself in need of wall pads, you'll listen to folks like these and give us a call!
The team at Action Wall Pads was incredibly friendly and helpful. They worked with me from the very beginning to ensure that the pads we received for our gym were going to be a perfect fit. We didn't even know they did graphics printing on them too, so when they offered that it was like an added bonus. Everything arrived great and the installation team had no issue getting everything put together. Thanks Action Wall Pads! - Jed M.

As a superintendent of a small school district I must look over many components of our K-12 programs. it is important to ensure our community has access to safe, beautiful schools. When our staff found we needed to upgrade the high school gym's padding we found Action Wall Pads and were so happy with the process. The installation process was so smooth and now are gym looks better than ever and is sure to provide excellent protection for our young athletes. - Tammy L.

It was obvious these guys knew what they were doing from the very beginning. I recommended them to a colleague who was opening up a gym in the town next to mine and we both had great experiences. - Mike R.

Our medical office was installing a quiet room and needed fireproof wall padding that would provide a safe space for people of all ages. Action Wall Pads made it so easy to get what we needed. - Ashley G.

When it comes to professionalism it's hard to beat the folks at Action Wall Pads. I've found you often get the runaround when searching for unique products, such as wall padding (I know from personal experience), so when I got in touch with these guys I knew I found who I was going to trust to outfit my gym with wall and floor padding. Fast, easy, affordable and kind. - Casey P.
As you can see we make a true effort to give our customers a great experience when they need to order wall padding for gyms, schools or other facilities. If you need wall pads in New York or beyond give us a call at (914) 648-4838 and we'll be happy to help!
Action Wall Pads Blog
Written and Published By MORBiZ