Athletic Wall Pad Success Stories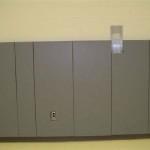 Wall pads utilized in school gyms and athletic training centers may not seem like a very important item in the organization, until they are put to the test. The reason that wall padding is installed is simple, to keep people safe. Wall pads are designed to absorb impact from quick moving basketball players, running and jumping volleyballers and participants in any number of sports that take place in a closed environment. Without wall pads, people could become seriously injured when playing in such tight quarters, as demonstrated by these wall pad success stories.
I play rec basketball with a group of other guys in their 30s and 40s. We're getting up there in age, but we still play hard. The court we play on doesn't have much room on the sides. While the other guys and myself are constantly coming into contact with the outside walls while hustling up and down the court, there is one instance in particular that I am really glad the gym had wall padding installed. We play games to 21 and in this match we were tied 19-19. Seeing as it was the playoffs of our little rec league, we were going extra hard. I dove for a ball heading out of bounds and drove my shoulder straight into the wall. While my initial reaction was to let out a yelp, it was purely out of the belief I was about to be hurt. In reality, I was completely fine thanks to the pads that I smacked into. The only pain I felt was the fact I threw the ball back in bounds to the other team, who scored and won the game. - Jeff D.

My daughter is on her high school's badminton team, and she's a fierce competitor, headed into her senior year. We're lucky she is, as last year could have been her last after she ran full force into the wall at the rear of the court while chasing down the birdie. She was never one to let a wall get in her way. She got the birdie over the net and bounced off the padded wall just in time to return her opponent's next shot, which she did, earning a point that sent her to state. - Karen L.

I have twin boys who play basketball in high school. I am so thankful the gym is lined with wall padding, as Steven slid right into the wall the other day while going for a rebound. I thought he might have hurt his back, but he was able to keep on playing without any pain. - Danny R.

I would never participate in wrestling if there wasn't a protective floor mat. Wrestling is about agility, it's an art really, nobody wants to get hurt or hurt other people while doing it, and the padded flooring allows us to go all out without worrying too much about injuries caused by impact. - Cameron S., 15-year-old wrestler.
These are just a few people who understand the importance of wall padding. If you need to install wall padding in New York, Pennsylvania or throughout the NE USA, be sure to contact Action Wall Pads. Our team can provide you with a quote for custom padding and installation in our region, and we're more than happy to ship our products across the nation. To learn more about the benefits of installing gym wall padding give our team a call at (914) 648-4838 today.
@@@@@@@@@@@@@@@@@@@@@@@@@@@@@@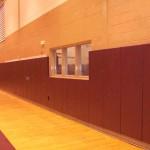 Athletic wall padding used in gyms and on sports courts around the world is an important item for keeping players safe. Wall padding is essential to injury prevention during basketball, volleyball, badminton, boxing and other sports. These custom fitted pads are perfect for school gyms, public gyms, private studios, and other spaces in which intense competition is common. But what are these pads made of? Read on to learn more.
Wall Pad Backing
The bak side of the wall pad, which attaches to the wall, is generally made from OSB (Oriented Strand Board). However, it can also be made of plywood. Each of these materials provide excellent mounting capabilities and ensure the pads hold their shape.
Foam
For standard padding 2 inch foam is used in combination with 90 indentation load deflection (ILD) density virgin polyurethane. Higher density polyethylene can also be used to for additional padding support.
Fire Resistant Vinyl
To cover the foam a nylon reinforced 14 oz fabric is used. It features a leather-like emboss pattern and is mold and mildew resistant. It is also fire resistant, providing additional safety. This outside vinyl is available in a number of colors and can feature custom graphics, allowing you to represent your team spirit. If you are looking for high quality sports wall padding in Buffalo, Utica, Albany or elsewhere in New York and western Pennsylvania be sure to reach out to Action Wall Pads. We strive to provide the highest quality wall padding products and installation experience. To learn more or to place an order for gym wall padding in New York give our friendly team a call at (914) 648-4838 today.
Action Wall Pads Blog
Written and Published By MORBiZ