FAQ: Custom Wall Padding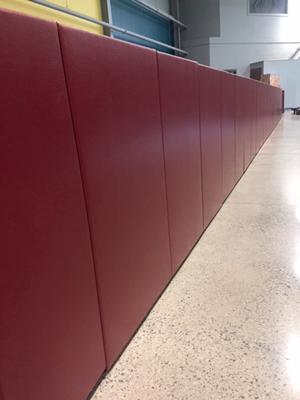 Wall padding for gyms, schools and other organization isn't a topic that often comes up at happy hour, so it's understandable if you have questions about the product. The following provides a brief overview of what wall pads are and why you may need them at your facility. If you have any additional questions about the use, benefits or costs of wall pads be sure to contact a vetted manufacturer and distributor.
What are wall pads?
Wall pads are a cushioned product designed to be installed over existing walls in an effort to prevent injury caused by sports of self harm. They are often made from foam and vinyl, with a solid backing.
Does my organization need wall pads?
Many types of organizations can benefit from wall padding for their gymnasiums or quiet padded rooms. This includes schools, private and public gyms, medical facilities, daycare centers and more.
Are wall pads a fire danger?
Properly manufactured wall padding is Class A fire retardant thanks to the vinyl that the finished product is wrapped in.
Are wall pads made in the USA?
While you can purchase cheap, poorly made imported wall pads, quality and still affordable wall padding that is custom manufactured in the USA is available.
Can wall padding have custom graphics?
If you would like the wall padding to host graphics that depict your team or organization, be sure to work with a wall pad company that has the ability to print full color graphics on the vinyl finish of the pads.
Where can I get wall pads in the USA?
If you are looking for wall padding that is made in the USA, is class A fire retardant, and features custom graphics, be sure to contact Action Wall Pads. For 25 years we've been manufacturing custom wall padding in New York and shipping it across the country. We're happy to provide wall padding installation in the greater Northeast area. To learn more about this product or to request an estimate for wall padding in New York and beyond be sure to call (914) 648-4838 to speak with our friendly team.
Action Wall Pads Blog
Written and Published By MORBiZ