Facts About Quality Gym Wall Padding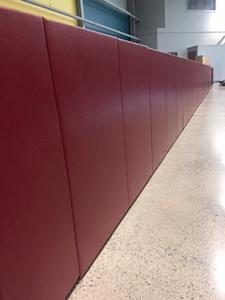 Many schools, gyms and other sports facilities rely on gym wall padding to line their sports courts so that athletes, trainers and enthusiasts have a safe place to practice and compete. Searching for gym wall padding can be a tough task, but as long as you find a padding manufacturer, supplier and installer that offers gym wall padding that meets the following requirements, then you can rest easy knowing your facility will receive the highest quality pads.
It's Fire Retardant
Gym wall padding should be made from fire resistant/retardant material. Of course this is only important in the event of a fire, but should you have fire resistant pads, and a fire does break out, it could help prevent the flames from spreading. Most pads have a vinyl coating that is also mold and mildew resistant.
It's Affordable
You may be worried about the costs of pads as you prepare to have them installed. For one, any upgrade in safety shouldn't be viewed as a cost burden. That said, gym padding really isn't. When you use a company that is a manufacturer, supplier and installer you cut out any middle men, which mean you'll get the best possible price.
Made in America
In today's economy it is important to support American-made businesses, especially manufacturing companies. Seek out a padding company that produces gym pads in the country, so that you can be sure your money doesn't leave the USA.
It's Materials Help Prevent Injuries
The most important thing about gym wall padding is that it is designed and manufactured to help reduce the chance of injuries. This means it should have at least 2 inches of foam to absorb any impacts.

If you are searching for gym wall padding in New York or the surrounding area reach out to Action Wall Pads. We manufacture our gym wall pads in Baldwinsville, NY, and install them throughout the greater Northeast area. We also ship our products nationwide! If you have any questions or would like to receive a quote for gym wall pads in New York or elsewhere in the USA give our team a call at (914) 648-4838 today.
Action Wall Pads Blog
Written and Published By MORBiZ