Four Businesses that Need Floor or Wall Pads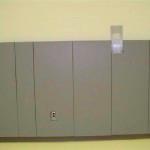 Wall and floor padding is commonly found in school gyms around the country, but numerous other organizations can benefit from these materials. Padding is often associated with athletics, but other types of facilities may need it as well, as discussed below. If you run a business or organization that may high impact activities, you too could be in need of floor or wall padding. Read on to see how a few common businesses benefit from wall pads.
Commercial Gym
Just like a school gymnasium may need floor and wall padding to ensure that athletes do not get hurt, a commercial gym can utilize this type of material to ensure their own patrons are able to work out and compete in a safe environment. From basketball courts to stretching areas, wall and floor pads prevent injuries and provide a comfortable area to workout.
Private Clubs
If your private club has a gym area, basketball court, volleyball area or other area where people may engage in athletic competition or practice, you need to install gym and wall padding to prevent injuries.
Yoga Facilities
People generally bring their own floor mats to Yoga studios for sanitary reasons, but if the routines you teach involve any wall exercises it may be beneficial to install wall padding that can be easily wiped down and cleaned.
Medical Offices
Outside of athletic organizations some medical offices may need a room that is lined with floor and wall padding. Often referred to as quiet room or calm down room, padded rooms are perfect for patients or family members that need a place to go to unleash their emotions in a zone that will allow them to exert themselves in a safe manner.

At Action Wall Pads we manufacture and install wall padding in New York and beyond for all types of facilities. We would be happy to chat with you about your specific needs to put together a quote for wall pads or floor pads. We'd be proud to provide you with wall padding in Buffalo, Utica, Albany and the surrounding communities and we ship across the country. Give us a call at (914) 648-4838 to request an estimate or to place an order!
Action Wall Pads Blog
Written and Published By MORBiZ