Benefits of Manufacturer Direct Wall Padding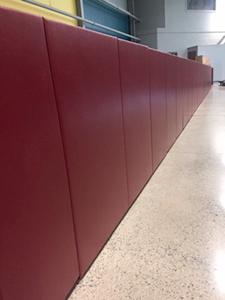 Being able to purchase products directly from the manufacturer can offer a number of great benefits. This stands true when purchasing gym wall padding or quiet room padding. Wall padding can be used for a number of things, including keeping athletes safe or providing an area of refuge for people who need a place to calm down. In some circumstances it is even necessary for an organization to install wall padding to ensure that it meets local and regional building codes.

If you are searching for wall padding for your gym, school, hospital or other business or organization, it can be very advantageous to work directly with a manufacturer. Let's look at the top three benefits of buying manufacturer direct wall padding.
Design
Many organizations would like specific colors, sizes and designs on their wall padding to ensure that it fits the space it is intended for and offers consistent branding. If you purchase wall padding from a third party you may not be able to find the colors and sizes you're looking for, forcing you to work with materials that are subpar. Working directly with a wall padding manufacturer will ensure you get the size you want, the color you need, and you'll even have the option of having large, full color graphics printed directly on the pads.
Cost
Almost any time that you purchase directly from a manufacturer, it is going to cost less than going through a third party. Since there is no middleman, the savings are passed directly onto you. Even shipping costs can be reduced, as you can work with the manufacturer to find the perfect shipping solution for you.
Installation
Assuming that your organization falls within the physical area that the manufacturer offers installation, you'll save time and money when it comes time to actually put the wall padding up. Having the manufacturer complete this process will ensure that it is done right the first time. This also means that you won't have to hire additional workers or reallocate employees who may have other jobs to do.

If you're searching for manufacturer direct wall padding in New York, Pennsylvania or throughout the United States, reach out to Action Wall Pads. We offer our products direct to consumers to help them save time and money. While we ship across the country, our wall pad installation services are available throughout the Northeast United States! To learn more about our products or to request an estimate for gym wall padding in New York or the surrounding areas give our friendly team a call at (914) 648-4838 today.
Action Wall Pads Blog
Written and Published By MORBiZ